Apple's AirPods are some of the most popular wireless earbuds in the world, for a few different reasons. To begin with, Apple was the first major manufacturer to produce True Wireless Stereo (TWS) earbuds. Before TWS, you couldn't get good-quality stereo audio from a pair of wireless buds. Everything was in mono, and the audio sounded hollow and tinny. The AirPods proved that with TWS, your wireless earbuds could sound as good as your wired buds. Other manufacturers were quick to catch on, and now there are thousands of alternative earbud models. But Apple was first to market. Much like Kleenex, their brand is permanently attached to the product they pioneered.
Another reason people love AirPods is that they're explicitly designed to work with your iPhone. Since the iPhone is the world's most popular device, it makes sense that the AirPods sell well. Everything is made and programmed by Apple, so you don't have to worry about quirky compatibility issues. Finally, they just plain sound good. They might be pricey, but you get rich tones across all frequencies.
But like all wireless earbuds, the AirPods need to be charged occasionally. So, what do you do when you lose your charging case? Buy a whole new set of AirPods? Thankfully, there are a number of replacement cases available. This way, you can replace your original case without needing to buy a second set of AirPods.
Today, we're going to be reviewing three of the best AirPods and AirPods Pro charging cases money can buy. We'll start with the Apple Wireless Charging Case for AirPods. This is the OEM replacement case for the original AirPods, with no modifications whatsoever. Next, we'll take a look at the JinStyles Charging Case. This AirPods Pro replacement case comes in 3 different colors, so you can match it to your personal tastes. Last, we'll examine the CCAN AirPods Pro Case Replacement. This powerful AirPods Pro replacement case charges your buds 5 times before you need to plug it in. Which one is the best? Let's look a little closer, and find out!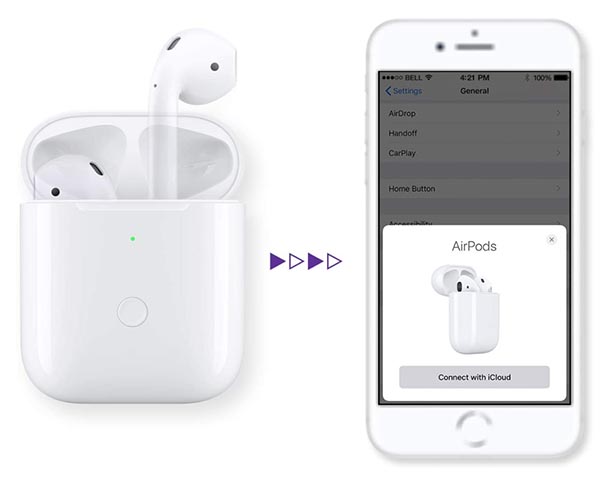 What Should I Expect From My AirPod Batteries and Charging Case?
Before we review any charging cases, we should set some baseline expectations. What exactly should you expect your charging case to do? Let's start with the basics, and look at the AirPods themselves. There are actually three different types of AirPods. The original, first-generation AirPods were produced up through March of 2019. They last up to five hours per charge when listening to music, and provide two hours of talk time. A fully-charged case will recharge the batteries nearly five times, for 24 hours of playtime and 18 of talk time.
Starting in March, 2019, Apple switched over to the Generation 2 AirPods. When it comes to listening time, these perform exactly the same, albeit with better audio quality. But the biggest difference is in the talk time. You get up to three hours of talk time per charge, for an increase of 50 percent. Both generations of AirPods will fully charge in less than 30 minutes. That said, a 15-minute charge will get you up to three hours of listening time. That's not too shabby!
The AirPods Pro are Apple's premium earbud. They come with silicone tips, which block out ambient noise and help to provide a more secure fit. They also have richer audio and better mic quality on phone calls. On a full charge, a single set of AirPods Pro will provide up to 4 ½ hours of listening time. It also provides good talk time, at a respectable 3 ½ hours per charge. In an OEM charging case, you'll get a little more than five full recharges. That works out to around 24 hours of listening time, or 18 hours of talk time. Like the original AirPods, you can quick charge the AirPods Pro. With a five-minute quick charge, you'll get about an hour of listening or talk time. A full charge takes under 30 minutes.
When your battery starts to get low, your iPhone or iPad will start dinging and showing notifications. You'll get a notification when the charge drops to 20 percent, again at 10 percent, and again at 5. The audible ding will sound when the charge drops to 10 percent. It will ding again immediately before the AirPods power down. You charge the AirPods by dropping them into their case and closing the lid. When the case itself is drained, you can use an ordinary USB charger, or a wireless Qi charger.
In addition to all that, the AirPods Pro come with the capability for optimized charging. This is a special charging mode that's designed to reduce wear and tear from everyday use. It does this by fully charging your AirPods Pro only when you need them, which extends battery lifespan. When you put your buds in the case, they'll only charge to 80 percent.
Then, Apple's algorithms will learn when you usually put in your buds. Right before you do, the case will charge them all the way full, so they're ready to go. To use this feature, you'll need an iPhone, iPad, or iPod touch. It's active by default if you use iOS 14.2 or later, but you can turn it off in your Bluetooth settings.